Best Sustainable Hotels in Singapore
In February 2021, Singapore revealed its Green Plan 2030, a "whole-of-nation movement" to advance Singapore's national agenda on sustainable development. The Green Plan 2030 seeks to rally bold and collective action to tackle climate change, and positions Singapore to achieve its long-term net-zero emissions aspiration as soon as viable. Within the city, many companies already stand out for their sustainability efforts such as breweries (for recycling bottles), restaurants (for growing their own ingredients), and grocery stores (for reducing the use of plastic bags). These businesses are inspirational examples of the city's green strategy for many innovative reasons. Many of Singapore's hotels are also sustainability advocates with their eco-friendly designs and initiatives. WiseFins has selected some sustainable hotels in Singapore that are at the forefront of green initiatives. Get inspired by their best practices! 
Located just off bustling Orchard Road, Grand Hyatt Singapore is a top player when it comes to sustainable hotels. The hotel's sustainable journey started with the implementation of a Green Energy Management System allowing waste and water reduction as well as better utilization of resources and energy. The hotel saved a whopping 450,000 newspapers a year by switching to digital, converted 100% of its food waste to organic fertilizer, and produced 30% of its electricity. Grand Hyatt Singapore is particularly recognized for its plant-based and vegan food options. The hotel was the first in the region to introduce plant-based food options in 2018 to fuel people's journey towards their well-being. The hotel has participated in the launch of Good Catch, Beyond Burger, JUST Egg, Impossible Meats, Omnimeat, and Heura, and will continue to add more alternative plant-based proteins to its menus. But that is not all, Grand Hyatt Singapore will also use WiseFins to reduce the environmental impact of its restaurants after its reopening. The software will help the hotel to collect data on 4 major factors that have consequences on the health of the planet: carbon footprint, water footprint, land use, and energy resources depletion. By measuring the environmental impact of each ingredient, the hotel will be able to reduce the carbon emissions of its restaurants by at least 30%. 
SOURCE: @GRAND HYATT SINGAPORE
At a glance, it's easy to understand why PARKROYAL COLLECTION Pickering has held the title of 'Asia's Leading Green Hotel' for five years. The hotel-in-a-garden concept is immediately eye-catching with an open outdoor space dotted with lush greenery and a small waterfall. In addition to its abundant greenery, the hotel also adheres to eco-friendly practices, using light sensors to monitor light levels and rain harvesting to minimize water consumption. The building itself has been designed with sustainability in mind as glass windows reduce the need for interior lighting. At the same time, the above-ground parking saves excavation and time-consuming mechanical ventilation. PARKROYAL COLLECTION Pickering has also removed all single-use plastic from public areas and meeting spaces. Recent improvements include the introduction of a plant-based menu at its signature restaurant, Lime.
SOURCE: @PARKROYAL COLLECTION Pickering
Marina Bay Sands is well known for its commitment to the environment. For example, the rooftop infinity pool (ranked as one of the world's most spectacular pools in the world) is equipped with a highly efficient water-saving system. Marina Bay Sands has significant environmental certifications. For instance, the hotel was the first MICE facility in Singapore to adopt the Singapore Tourism Board's sustainability guidelines for the MICE industry. It has also been recognized as a leading sustainable hotel at the Singapore Green Hotel Award 2017-2018. The hotel uses an Intelligent Building Management system that automatically controls lighting, heating, and water. Regarding its design and architecture, the hotel uses efficient methods to distribute chilled water for air-conditioning and it is designed with large windows that reduce the need for many light bulbs. Indeed, approximately 700 light bulbs are saved. Additionally, the hotel uses regenerative drives in its elevators which enables Marina Bay Sands to save 40% more energy than traditional non-regenerative elevators.
SOURCE: @MARINA BAY SANDS
It is impossible to miss the Oasia Hotel Downtown, a skyscraper with a green jungle façade. The hotel also has a wallless lobby on its 21st floor, allowing natural breezes into the common areas. Meanwhile, the enclosed space is cooled by an efficient cold water system and a special green lawn is reserved for guests to exercise and meditate. Business Times reported that Oasia had been named the 'Best Tall Building Worldwide' by the Council on Tall Buildings and Urban Habitat (CTBUH). According to them, the hotel "connects to the green of the cityscape."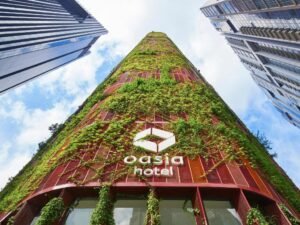 SOURCE: @OASIA HOTEL DOWNTOWN 
Even if Lloyd's Inn isn't a luxury hotel, it does not skimp on its commitment to the environment. The hotel adopts a minimalist style that emphasizes the simple pleasures that nature offers. Large windows overlook the sea of ​​tropical plants. The bright and airy rooms also feature a variety of botanical accents. In addition, it is an eco-friendly hotel with exterior corridors to reduce power consumption. The bathroom also has an open-concept design that reduces the use of air conditioning. 
SOURCE: @LLOYD'S INN
Opened in December 2016, the property is known for its deft balance of historic heritage and contemporary style, establishing itself as an iconic lifestyle destination. Its state-of-the-art environmental features that seamlessly integrate eco-friendly design with eco-friendly technology and innovation have earned two Green Mark Platinum Awards. JW Marriott South Beach's Food and Beverage outlets run efficient and sustainable operations by enhancing dishwashing operations, allowing for greater control of chemical usage and sanitizing temperature.
SOURCE: @JW MARIOTT SOUTH BEACH
Discover Pan Pacific Orchard, Singapore's first zero-waste hotel, opening in 2023. Pan Pacific Orchard will become Singapore's green kingdom and embody the true essence of environmental sustainability. It will change the skyscraping landscape of the city with iconic gardens spread across four floors. The new hotel features 350 eco-friendly rooms overlooking 3 stunning rooftop terraces as well as a swimming pool, a gym center, bars, restaurants, clubs, a shopping district, and much more. Additionally, guests can enjoy a special rooftop dining and meeting experience.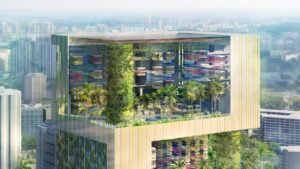 SOURCE: @PAN PACIFIC ORCHARD
Located on the southernmost edge of Sentosa Island, Sofitel Singapore Sentosa Resort & Spa is a tranquil paradise surrounded by lush greenery. In addition to implementing an intelligent food waste tracking system, the hotel is partnering with FoodBank Singapore to donate pristine food to communities in need.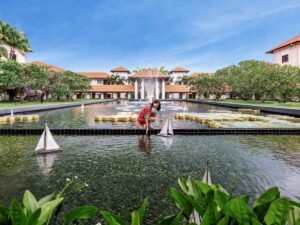 SOURCE: @SOFITEL SINGAPORE SENTOSA RESORT & SPA
Which of these hotels inspired you the most? Hotels and restaurants, you can participate in the sustainable transition too. Make a difference by prioritizing sustainable practices. You can start by simply reducing the environmental impact of your restaurant. WiseFins offers a 3-in-1 online software for food professionals, without the need for installation or training, and available on multiple devices. 
TRY WISEFINS