The chief Amélie Darvas and her partner, the Brazilian sommelier Gaby Benicio, left Paris in 2018, for the 'Monts du haut', Languedoc (Hérault, France). They opened the Aponem restaurant dedicated to cooking food from their vegetable garden that is wildly successful.
Aponem restaurant, the fairy tale by Amélie Darvas
It is in Vailhan, a tiny village located in the middle of the Languedoc countryside, between Pezenas and Béziers, that these two women gave birth to their "baby," the Aponem restaurant, whose name means «happiness» in a Brazilian dialect. From the moment it opened in July 2018, Aponem restaurant has been thrilling culinary critics, who flock to this former presbytery nestled in the heart of an exceptional wine environment. The restaurant's dining room offers a spectacular view of the hills and lake Olivette. There, we can taste a creative and explosive cuisine, such as vegetable makis wrapped in fruit pastes, purple corn cushions with smoked herring, or beet bao topped with yuzu cream… The wines offered by Gaby, the accessible prices and the warm setting of this exceptional place, in the heart of refreshing hills, complete the seduction of the customers. The first Michelin star was awarded in less than six months and the restaurant was announced as the best table of Fooding in 2019. Better still, the place immediately received accolades from major press titles, such as Le Figaro and Le Monde, to only name a few. To have lunch or dinner at Aponem restaurant, Amélie and Gaby's restaurant, it is now necessary to be patient and book several months in advance.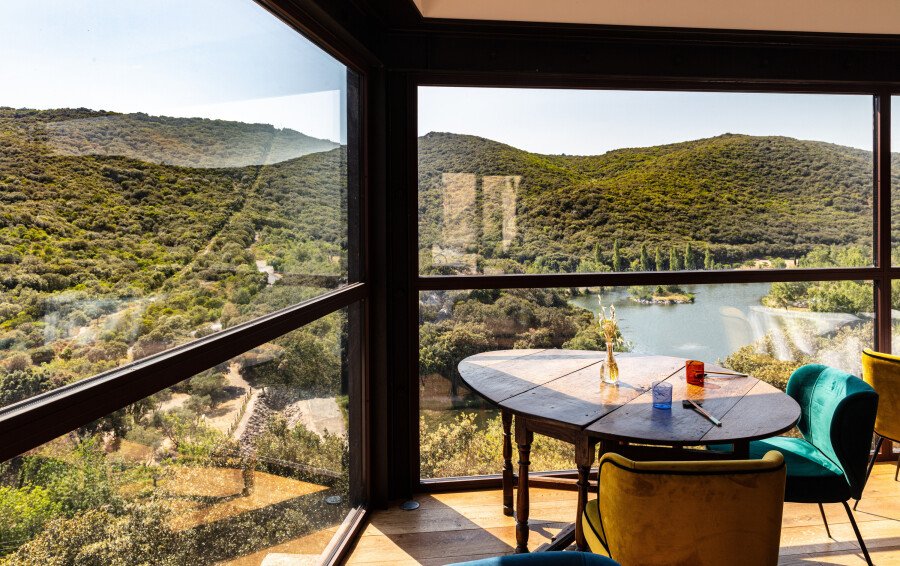 Trained by Darroze and Frechon
The success comes from an eco-responsible approach, close to the environment and the land advocated by the two women. «Growing our organic vegetable garden was an obvious choice, » told Amélie to Paris Match. Born in the Paris region, Amélie Darvas, whose plant tattoos (carrot, radish and poppy) adorn her left arm, got close to the kitchen a little by chance. She used to go to palace restaurants with her father who worked at Valrhona. She then quickly decided to train in cooking with the best: Jean-François Rouquette, Hélène Darroze, Eric Frechon, and, on the bistronomy side, with Stéphane Jégo, Nadège Varigny to have fun… Finally, she met Gaby and created Haï Kaï in 2014, on the edge of the Canal Saint-Martin, in Paris.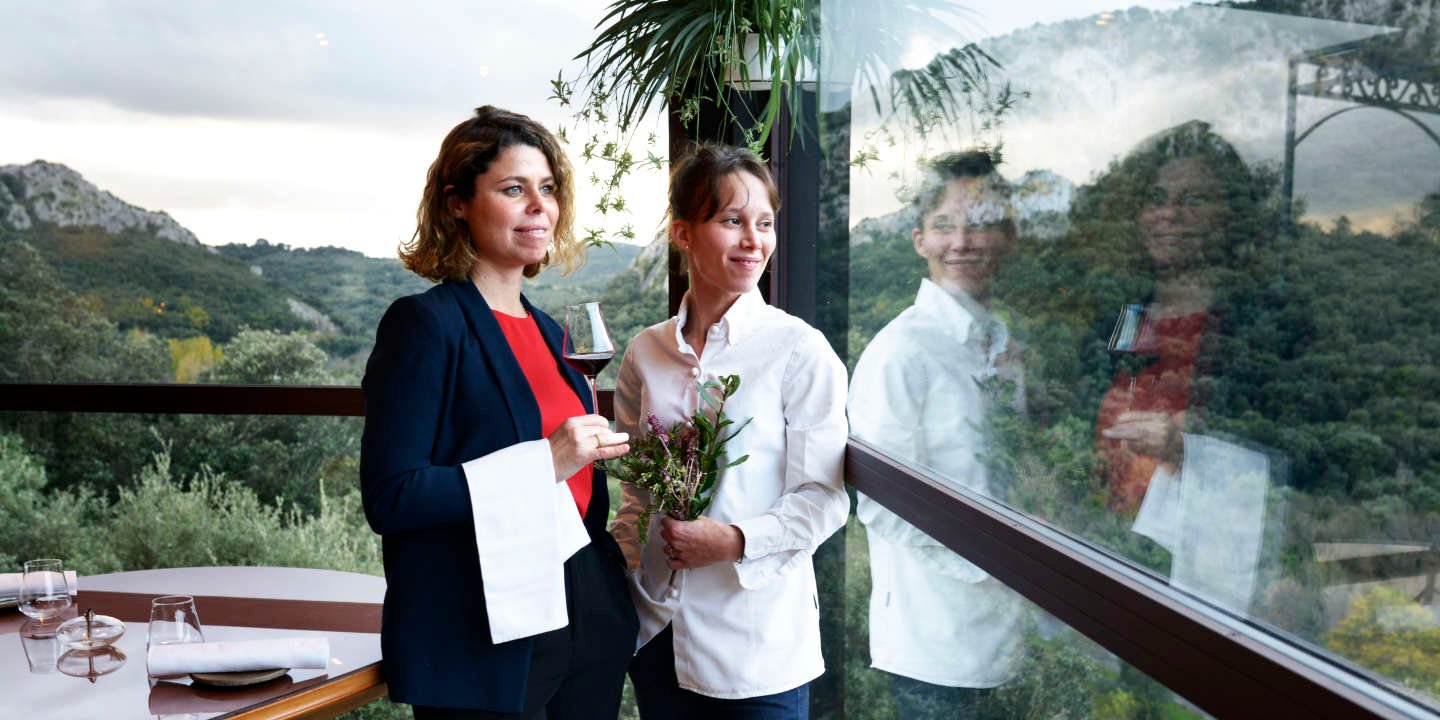 A one-hectare vegetable garden
«We don't work with noble products like caviar or truffles. But we offer things that are just as precious: our seasonal fruits and vegetables», explains the chief. During the lock-down, the two companions took the opportunity to expand their vegetable garden. They now proudly display seven parcels, a total of one hectare, which include herbs, beans, tomatoes, edible flowers, and zucchini seedlings. A gardener helps them, but the two women also cultivate their own land. The village Vailhan, which has 150 inhabitants, a church and a presbytery, is an authentic paradise that they discovered during a visit to the wine growers in Vailhan. «We work eighteen hours a day, we have a monastic life, punctuated by the bells of the church. We are happy», these two artists tell Le Monde. And they continue: «When you are so close to the earth and to the producers, when you understand how the vegetable grows, you learn respect and patience. Before, if I didn't have my radishes when I wanted them, I was annoyed. Today, I say to myself, too bad, we do with what we have. It's a philosophy of life through cooking ». At Aponem restaurant, you can enjoy a unique « tasting » menu made up of 25 to 27 small dishes that follow one another, just like in Japan. An infinite feast, therefore, to discover as soon as possible.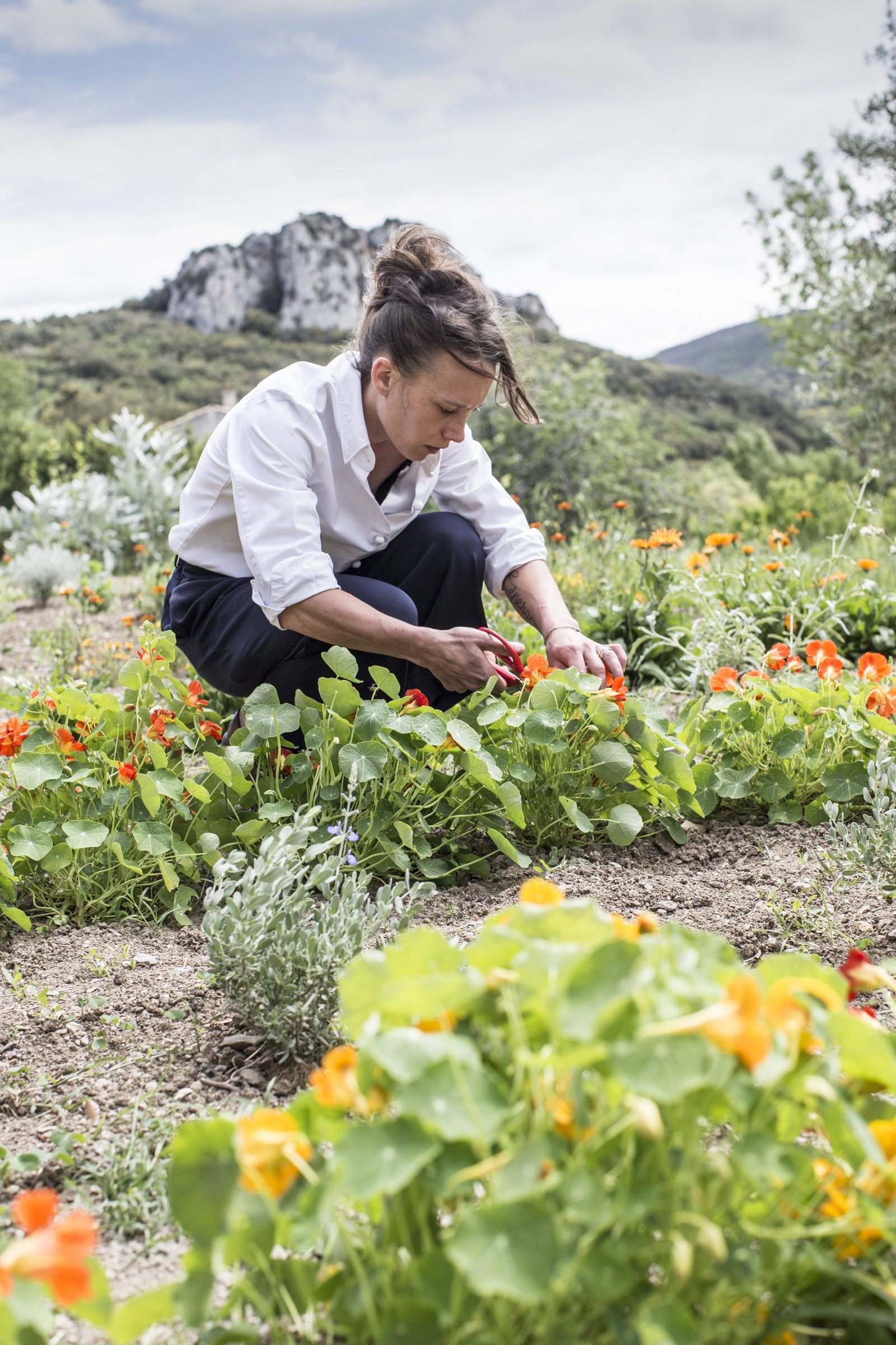 The Aponem restaurant recipe : The Fig Leaf Brioche
One of the dishes that best reflects Amélie Darvas' natural roots is the brioche infused with fig tree oil, fresh almond milk and goat cheese gratin.
Ingredients for 4 people
1 beautiful brioche
5 fig leaves
200 ml of grape seed oil
200 grams of fresh almond
150 ml of almond milk
1 small fresh goat cheese
1 small aged goat cheese
1 untreated yellow lemon
Salt flower, pepper
A siphon
The preparation
Make a brioche or buy a good brioche at your baker. Make it stale for two days.
Pick 5 or 6 young fig leaves, and let them infuse in the grape seed oil for one night. The next day, crush or blend the fig leaves with the oil to extract the maximum of fragrance and strain through a sieve, pressing strongly.
Peel and chop the fresh almonds. Keep half of them to finish the dish, then infuse the rest in organic almond milk overnight. The next day, blend the almond milk and almonds, then strain through a sieve.
Slightly warm the fresh almond milk, add a piece of fresh goat cheese, blend it all together and season with salt flower and pepper: the texture should be smooth. Put the preparation in a small siphon and gas twice.
Cut the brioche into small cubes, dip it in the fig oil, drain it and, in a hot pan, toast it so that each side is golden.
Place the hot brioche in a soup plate, add a few freshly blanched almonds, cover with the almond-goat cream in a siphon, and lightly grate a little aged goat cheese.
Cooking
Place in the oven at 220°C to gratinate for 2 minutes. Add a few drops of fig leaf oil, lemon zest, a turn of the pepper mill and enjoy.
Kitchen chefs! Growing his own vegetable garden is one of the alternatives to fighting global warming as it reduces carbon emissions from transportation. Another way to reduce restaurants' greenhouse gas emissions is to reduce food impact from production. WiseFins helps Chefs and Restaurant managers calculate and reduce the environmental footprint of their menus. The software is not only good for the planet; it optimizes food costs too. Discover the software.
Written by Sandra Bensoussan.