The world-famous vegan challenge Veganuary launched on January 1st, revealing one person signing up every 2.4 seconds. In the 2022 campaign, more than 620,000 people took to avoiding meat and other animal food products for a month. Veganuary's goal is to encourage people to switch to a plant-based diet that not only improves their health but also helps the environment and stops unnecessary animal slaughter.The recent vegan craze proves that this is not a trend that comes and goes. Demand for plant-based food recipes and creative beverage options continues to grow at an accelerating rate. Serving vegan cuisine is a non-negotiable move for restaurants and hotels looking to grab their share of this new billion-dollar opportunity in the food business.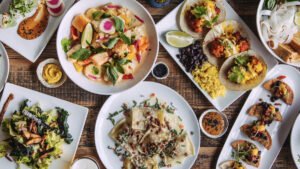 Veganuary 2023 is all set to be the biggest edition 
In the coming weeks, you'll likely see at least a few mentions of Veganuary while walking down the aisles of supermarkets or in front of restaurants down the street. The annual January Challenge gets people to try plant-based foods for a month. According to an Innova Market Insights trends survey for 2023 – which considers an average of shoppers' views from Canada, Brazil, China, Germany, France, Indonesia, India, Spain, Mexico, the United States, and the United Kingdom – consumers are attracted to plant-based alternative foods because they deem them healthier for their body, healthier for the planet and help them add variety to their diets. Vegan diets have received increasing attention in recent years, with celebrity advocates such as Lewis Hamilton, Billie Eilish and Lizzo. This switch has been most noticeable in restaurant menus and on grocery store shelves, where meat-free and non-dairy options have become more popular since the middle of 2010. A new way of eating that US Natural Grocers calls "regenivores eating" is trending. The supermarket chain explains that "regenivores consumers" make food choices that support planet and human's health.
According to Veganuary organizers, last year's campaign brought together 1,560 new plant-based products and menu items. In fact, the number of participants is increasing every year, and no company wants to miss an opportunity to increase sales and attract the attention of customers. For instance, this month Burger King will be launching its Bacon King using vegan cheese and bacon from Violife. McDonald's United Kingdom and Ireland has doubled its use of Beyond Meat burgers, serving two patties in its Double McPlant offering. Beyond Meat will also be available in Starbucks' vegan breakfast sandwich offering. The coffee chain also offers vegan bakeries, sandwiches, chocolates and snacks this January. In November, Emirates announced it would offer vegetarian meals in all travel classes. The world's fourth-largest airline has created a special plant-based menu with over 180 choices, including grilled vegetable crepes with spinach and tomato concasse and Moroccan vegetable tagines with couscous. Meanwhile, Heinz has introduced plant-based canned beans and sausages, which according to brand manager Manel Jordão "have been in the making for several years."  Supermarket chain Aldi is also expanding its plant-based offerings for Veganuary. The company has launched 8 meat substitutes – beef, chicken, pork ,and duck – and three alternative fish products.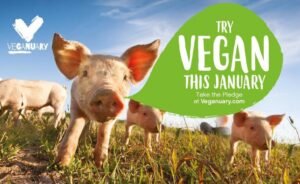 SOURCE : @VEGANUARY 
The impact of Veganuary 
A survey conducted by Veganuary at the end of the 2022 challenge showed more than 620,000 people from nearly every country in the world participated. Data also suggests more than six million people may have unofficially taken part that year. Previous studies have found that 82% of the participants who were not vegan at the time of registration had significantly reduced their meat consumption immediately after the event. Of this number, 30% said they were still eating a fully vegan diet, and another 38% said they were eating at least 75% less meat than they did before Veganuary. Participants who remained vegan after the challenge experienced benefits such as increased energy (60%), improved mood (59%), healthier skin (52%), and changes in weight (48%). 
What about the environment? More than one million people have already completed Veganuary's one-month challenge since it began in 2014 and new statistics compiled by Dr. Helen Harwatt from Harvard University's Animal Law and Policy program show that their collective impact has been huge. Statistics claimed that 103,840 tons of CO2 have been saved, equivalent to driving around the world almost 15,000 times. In addition, 3.4 million animals and 6.2 million liters of water have been saved. Conclusion: choosing ingredients wisely offers the opportunity to reduce our global environmental impact. Modern agriculture is now the number one contributor to a variety of factors that impose hazards to the environment, including and not limited to, an increase in rates of methane and CO2, overconsumption of water, overuse of land resources, waste production, water, and air quality degradation, deforestation, and species extinction. According to Animal Frontiers, livestock is responsible for 14,5% of the world's greenhouse gas emissions. WiseFins helps hospitality and restaurant managers choosing the most sustainable option by reviewing ingredients in their F&B menus. The software allows restaurants to reduce by 30% their carbon emissions while increasing by 15% their profit margin. Therefore, taking care of the planet is not only good for the health but also for the wallet.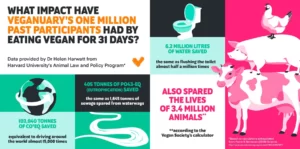 SOURCE: @VEGANUARY 
What is a vegan diet? What market do vegans represent?
A vegan diet does not contain any animal products. So vegans not only avoid meat and fish, but they also avoid eggs, dairy products and even the gelatin used to make certain types of gummies like Haribo. The diet differs from vegetarianism as veggies still consume eggs and dairy. Another diet that's come to prominence in recent years is flexitarianism. Flexitarianism means that some people follow a vegan diet on some days of the week or at certain mealtimes, but it is not considered to be vegan. The vegan diet is only one aspect of veganism. The lifestyle also sees followers avoid things like animal-derived clothing such as leather or household items that may have been tested on animals.
Currently, data estimate that there are about 79 million vegans and 1.5 billion vegetarians in the world. The number of vegans particularly increased in 2019 when the transition from vegetarians to vegans has been so profound that 2019 was declared by The Economist 'The Year of the Vegan'. The country which has the largest number of people following plant-based diets in the world is India. According to a survey conducted by Statista in 2021, about 24% of Indians are vegetarians, whereas around 10% reported following a vegan diet. 
Experts expect that the vegan food industry will reach $31.4 billion by 2026 as the vegan lifestyle becomes more and more popular. In fact, giant UK supermarket Sainsbury's predicts that by 2025, vegans and vegetarians will account for a quarter of the British consumer population and probably a quarter of the world population.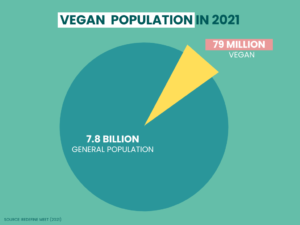 Hotels and restaurants, have you thought about vegan travel?
The hotel and restaurant industry needs to respond to the demand for more vegan menu options. Those in the industry know that limiting the availability of plant-based foods can be disastrous, as you can literally lose business from a huge customer base. In fact, veganism has been one of the most popular culinary trends of the decade and is projected to grow even more in the coming years. The cost of vegan ingredients needed to prepare vegan recipes such as alternative meat or dairy products substitutes can cost a little more for a restaurant, expect for fruits and vegetables that are actually cheaper than meat. However, dedicated consumers understand and are willing to pay more for the vegan options they want. Restaurants meeting consumer demand for more and better vegan food on their menus will increase sales. In fact, according to a study by Tastewise, a popular industry food data and trends platform, this vegan trend is spreading throughout the entire restaurant industry, with a significant increase in demand for vegan dishes by consumers, and therefore increased sales of vegan food for restaurant sources. To fill the need for a variety of different vegan food options for customers, more and better-tasting plant-based meat alternatives are popular choices for today's diners. Vegan products such as burgers, bacon, and sausages have taken the vegan palate to a whole new level, and consumers are loving the new dining options. However, it's more than just putting a veggie burger or jackfruit "pulled pork" sandwich on the menu. Restaurants need to rethink their business from a plant-based perspective. They may need to make huge changes to the menu or pursue partnerships with more sustainable vendors. For instance, Marriott Bonvoy's Aloft Hotels recently added vegan and vegetarian breakfast items in its grab-and-go lobby markets at more than 150 hotels in North American. Peninsula Hotels will launch a new wellness initiative this March that includes plant-based dishes as well as sleep-promoting aromatherapy.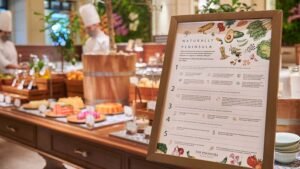 SOURCE: NATURALLY PENINSULA BREAKFAST @BANGKOK
Menus aren't the only vegan aspects of hotels in the animal-free vanguard. Rooms are going vegan with plant-based amenities and interior design. In Mykonos, Greece, Koukoumi Hotel opened in 2020 with a vegan restaurant, a spa that uses only plant-based massage oils, and rooms furnished with vegan mattresses made with coconut fiber. In London, Hilton Bankside offers a vegan suite built with plant-based materials, including bamboo flooring and pineapple-based plant-leather cushions. A pillow menu offers down-free stuffing options such as buckwheat and millet and vegan snacks fill the minibar. Guests have designated plant-leather seating in the restaurant.
Vegan activities are also trendy. At Anse Chastanet Resort in St. Lucia, which added a vegan restaurant four years ago. Its vegan chef offers Rastafarian Creole cooking classes, which are vegan. Chocolate-making classes produce vegan bars and an on-site craft brewery uses fruit and cassava in its vegan beers. Last year, Responsible Travel added roughly 1,000 vegan-friendly trips as part of its commitment to becoming "nature positive," a vow to not harm wildlife or habitats but leave them more protected and supported, by 2030.
Conclusion 
The new vegan food trend and different ways of eating are catching the attention of the whole world and are definitely something that the restaurant industry needs to embrace. Veganism is now a way of life that millions follow because of its health and environmental benefits. Indeed, it presents the opportunity to reduce food's environmental impact and create a livable future for us all. Hospitality leaders, you can reduce the whole carbon footprint of your restaurants: discover WiseFins. 
DISCOVER WISEFINS