WiseFins recently had the opportunity to interview Thierry Giraud, Vice President Food and Beverage at Accor, a major player in the hotel industry. This exclusive interview provided insights and perspectives from a recognized leader in the Food & Beverage sector. With his extensive experience and innovative vision, Thierry Giraud shared exciting ideas about current and future trends in Food & Beverage. He also emphasized the fundamental importance of incorporating environmentally friendly practices. His commitment to a more sustainable future in the industry has inspired and encouraged many stakeholders to follow this responsible path, paving the way for more environmentally conscious Food & Beverage practices in Accor hotels and beyond.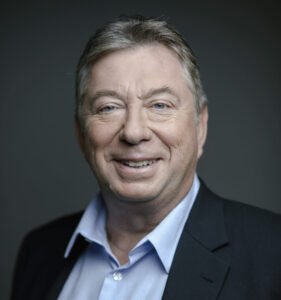 Source@ Thierry Giraud – LinkedIn
WiseFins: Can you share with our readers your professional journey, from your beginnings in the hospitality industry to your current position as Vice President Food & Beverage at Accor?
Thierry Giraud: My career was primarily focused on the field of Food & Beverage. I began by studying at two different hotel schools and doing seasonal work in France and Switzerland. Later on, I moved to Germany to head the culinary departments of two hotels. After that, I joined a restaurant group in Frankfurt, which owned two restaurants on the Opera Square. Following a stint in Paris, I joined Accor in 1989, in a brand new 300-room hotel that had just opened. During that period, I took on the responsibility of managing purchases for the group while closely observing practices in other hotels, with a particular focus on those in Germany.
In the 1990s, I took on the role of Director of F&B and Purchasing for the group in Germany and Austria, and I continued these responsibilities until 2000. From that year on, I left the group to dedicate myself to sourcing extremely rare and luxurious food products for an international clientele, including three-star restaurants, royal courts, and high-net-worth individuals. We delivered to the Burj-al-Arab twice a week. It was a particularly captivating experience, operating 24/7. I managed a team of about twenty buyers, and we were in contact with over 700 suppliers worldwide.
In 2007, I returned to Accor once again, taking on the role of Director of F&B for Sofitel in Northern Europe. Then, I came back to France to oversee the F&B operations of Sofitel in France and Southern Europe. Simultaneously, I held the position of Executive Director at Sofitel Marseille Vieux Port. In 2013, I exclusively dedicated myself to Sofitel's F&B strategy for Europe, Africa, and the Middle East, which included about fifty hotels. Later on, I became the Director of F&B for the Sofitel, Pullman, and MGallery brands in France. Finally, in 2022, I assumed the role of Director of F&B for all Accor brands in France and Southern Europe, ranging from Greet, Ibis Style, Ibis Budget to Sofitel.
WF: Why did you specifically choose to grow within the Accor group?
TG: There were fantastic opportunities that presented themselves, and I felt that I was genuinely making a contribution. In this industry, when you perceive these opportunities and feel that people value your presence, it creates a favorable balance to stay, to want to stay, and to enjoy staying. Thus, I felt the need to bring all my experience acquired over the past 45 years and share it. Because, of course, it is an integral part of our profession, even its foundation: to keep nothing for oneself and to give everything.
WF: In the field of Food & Beverage, you have demonstrated a remarkable capacity for innovation, developing numerous projects aimed at improving this sector. Among these, which ones bring you particular pride?
TG: We have launched many projects indeed! For example, there are Chef career projects. I still follow some of them today, even outside the Accor group. We also have projects related to Corporate Social Responsibility (CSR), such as our project, launched five years ago, to exclusively use organic fruits and vegetables in Premium and Luxury hotels, as well as reducing food waste and eliminating products with a high carbon footprint. These concepts are working very well today. Launching a concept or a project is relatively simple, provided we take into account and satisfy the four essential pillars of dining:
The first pillar: the owner, who should derive benefits from it.

The second pillar: the customer, as it is crucial never to forget their needs. If we act solely for ourselves without considering the customer, it won't work.

The third pillar: the hotel management (Accor), which must be comfortable with our actions.

The fourth pillar: the collaborators.
Every time we launch something new, we do it with these four pillars as our foundation.
We have also approached different concepts related to breakfast, both in Northern and Southern countries, as well as in France. I have always attached great importance to breakfast because it is an essential element. Chefs may not always fully grasp this importance as they predominantly come from fine dining backgrounds. However, it is crucial to understand that offering an excellent breakfast is a major asset for a hotel. Participating in contests and winning breakfast challenges has been a rewarding experience for the hotels. We have won numerous competitions and have been voted "Best Breakfast in Europe" multiple times with some Sofitel hotels.
Lastly, we constantly work with a sourcing challenge. We are always on the lookout for new products that will showcase the Chefs' skills while providing customers with a memorable experience.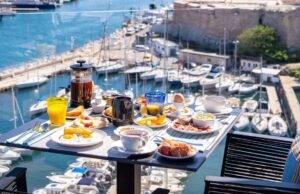 Source@ Sofitel Marseille Vieux Port – ALL
WF: Building upon your CSR projects, what is your vision of sustainability in the F&B industry?
TG: In the context of CSR, it is essential to make choices while keeping in mind four fundamental considerations:
The first consideration is quality. There's no point in seeking products that aren't good and are far away. Importing low-quality products from the other side of the world is pointless.
The second consideration is the impact on our customers' health. It is crucial to take into account the impact of the products we use, especially vegetables grown at ground level, which may be loaded with pesticides or insecticides. Prioritizing organic options is crucial.
The third consideration is seasonality. For years, I have fought to avoid having raspberries in January or strawberries in December, preferring seasonal products when available. Naturally, we prioritize locally or nationally sourced products but it can sometimes be a bit complicated. Spanish or Italian asparagus are in season before the French ones. Should we start working with asparagus when the Spanish ones are ready, or should we wait for the French ones? Should we be the first or should we aim for excellence? So, each time, an ethical choice has to be made concerning products and recipes, between waiting for the season in France and seasons already started in other countries.
The final consideration is the environment. There are products that come from very far away that we may not really need. I remember conducting a survey among Parisian chefs, asking them, "Do you think you can cook without avocados?" After a moment of reflection, they replied, "Yes." I then said, "Thank you." For the past three years, some hotels have stopped serving avocados because they know that their sourcing is not always very environmentally friendly and requires a considerable amount of water.
WF: To inspire our readers, do you have any examples of ecological initiatives implemented in Accor hotels?
TG: For instance, I have ensured that all the hotels under my responsibility offer vegan options in rooms and restaurants, as this is truly significant. It is crucial to recognize that veganism goes beyond being a mere trend and encompasses many aspects. Veganism is not just about bland beans or boiled seeds; it is far more complex than that. It is a choice that requires thought, maturation, and work. Preparing vegan dishes demands an extremely sophisticated recipe because it involves creating without animal proteins, a challenge considering that traditional French cuisine is not particularly accustomed to it. Indeed, France is not renowned for its expertise in handling vegetables. Many other countries, especially those in the South, Maghreb, and India, work more extensively with legumes, fruits, and vegetables compared to our nation. For a long time, France has been characterized by abundant consumption of animal proteins, which has marginalized vegetables.
WF: Have you indeed noticed an increase in demand for more planet-friendly F&B offerings?
TG: It is crucial to communicate the details of our offerings to customers. For about six years now, all our meats come exclusively from France, which is clearly explained. Additionally, our fruits and vegetables are grown using organic methods, and this is also indicated on our menu. These messages are not only expected but also unifying. Therefore, it is crucial to convey our commitments to our customers.

Source@ Sofitel Paris Le Faubourg – ALL
WF: How do you see the evolution of the importance of sustainability in the F&B industry? Do you believe it will become more or less important in the future?
TG: The importance of sustainability in the F&B industry is akin to a tsunami. It is impossible to avoid or ignore it by thinking, "We'll deal with it later." All our actions today are geared towards this perspective. Three years ago, I introduced a new range of teas called PURE. This tea range is entirely designed with compostable home packaging. All the teas are certified organic, and that's not all. I insisted that they contain no flavor, whether natural or artificial. The only tastes we use to create Earl Grey or Jasmine are organic essential oils. Additionally, we offer a whole range of similar products, such as jams produced in a supported employment structure (ESAT) that employs people with disabilities. Next month, we are launching a jam made with hand-picked, fully ripe fruits. To me, it is far more important to enable individuals to work with fresh fruits, using their hands, rather than buying industrial jam. This is the human aspect of our profession.
WF: One last question, do you think sustainability can be a revenue generator?
TG: Perhaps not yet, as I believe environmental consciousness is not sufficiently widespread, so it doesn't fully translate into our choices. However, tomorrow, it will be a decisive factor. When we choose to stay at a hotel or dine at a restaurant, we will consider their commitment to sustainability – and everything that contributes to preserving our environment. In the future, some customers will choose these destinations precisely because they are genuinely working in this area. Therefore, it is evident that by following this path, we will generate more revenue, greater profit margins, and better results.