Stepan Marhoul, Corporate Director of Food and Beverage for Almanac Hotels, discusses the importance of sustainability within the hospitality and food industry. He recently agreed to speak to WiseFins about the Almanac Hotels' strategy.
SOURCE: @Stepan Marhoul
WiseFins: You cumulated over 20 years of experience in Food & Beverage as well as hotel management with roles including Group General Manager, Food & Beverage Manager, and Restaurant Director, can you share how it all started?
Stepan Marhoul: All about family! There were always many people in our house when I was a small kid as my parents hosted friends, family, or people around my dad's work. My dad was working in literature and published a few books, mostly poetry. He entertained a lot. I would see these people coming and always found it very exciting and fun to set the table up, help with the food and drinks and serve them. I've always observed the interaction with people and really enjoyed the whole part of hosting. 
I also was a huge football fan and enjoyed playing it as a kid. My parents decided to put me in a sports talent training camp in Sparta Prague, one of the football clubs in the Czech Republic. I was trained to be a professional football player but, in the end, my love for hospitality took over. That led me to a career where I had the chance to live in 10 countries on three different continents and spent over 25 years working in the industry, whether it'd be for stand-alone restaurant operators or international hotel chains. 
WF: What made you choose to join Almanac Hotels?
SM:  In 2019, in our 10th year living in Asia, my wife and I realized we missed European culture and seasonality way too much and decided it was time to move back. It took us another year to find the company that matched our values and expectations in terms of both professional development as well as our lifestyle choices. It was important for me to work for a family-run business with a focus on authenticity and sustainability, which are two important pillars in my life. I especially wanted to work for a company that cares about the environment or was open-minded and aspired to change the industry as we know it. In both of these aspects, Almanac Hotels ticked off my checklist. Also, the locations of Almanac hotel properties, as well as projects in the pipeline, perfectly matched my language skills as well as my wish list of locations to work in and develop.    
SOURCE: @Almanac Hotel Barcelona
WF:  How many hotels are part of the company to date and how many F&B venues do you and the hotel teams manage?
SM: We currently have five hotels operating or in pre-opening stages in our portfolio with another three projects in the pipeline for the next five years. We approximately have a total of 20 food and beverage venues that we operate or develop new concepts for including restaurants, bars, and rooftop bar projects. Each hotel has a banquet and a catering team. We are also starting with a new brand of coffee shops that we will open both in Prague as well as in Vienna. It will include a very unique food programming, essentially focussed on nutritionally dense foods where every item on the menu will have benefits for the body.  
WF:  If you are at liberty to share a bit of insight, what does the hotel pipeline look like, and in which location?
SM: In the first half of this year we are opening Almanac Palais Vienna and Almanac X Prague hotels, while we have another three projects between Budapest, Prague, and Vienna for the next five years.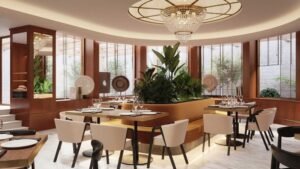 SOURCE: @Almanac X Prague
WF: What is the company's vision in terms of expansion?
SM: Almanac Hotels is focusing on organic financially healthy growth within European markets that have not reached their full potential yet. At the same time, the company wants to maintain its quality level and continue matching its brand value. 
WF: We heard through the grapevine that you have a personal commitment when it comes to environmental impact, can you tell us how that plays out in your everyday life?
SM:  Well, I could talk about this subject all day. My personal lifestyle philosophy started five years ago when I was still living in Asia.  Initially, it was a selfish purpose as I felt I was not performing at my full potential. I started doing research on nutrition to physically as well as mentally perform better on all levels and started athletics, jogging, and marathon. As with many things and many topics, once you start researching one area, many other doors open up. I watched documentaries and read books about nutrition and its carbon footprint. I adopted a daily routine including a nutritionally dense exercise protocol, which boosts my energy levels while having a minimal negative impact on the planet and animals. I found myself on this topic and I had the opportunity to, at least, do my small part by sharing information with everyone and changing the people around me. In Singapore, I had the opportunity to change the way business was done. We started to have more environmentally focussed programming or guest chef events. It became slowly but surely a mission of my professional and personal life to positively impact all the other people around me and contribute to making this planet better for all life forms.
WF:  You obviously have a very strong personal value system. Can you tell us how your values align with Almanac's?
SM: I am very fortunate to work for a hotel brand company that has brand values that I care about as well: warmth, authenticity, culture, passion, and conscience. The last one is particularly focused on sustainability. 
SOURCE: @Almanac Hotel Barcelona
WF: What is the company's vision in terms of sustainability and where is its current focus?
SM:  In Almanac Hotels, we care about the environment around us. We analyse the way we do business: where we source the products from; how we build our hotels; how we operate them and what to offer to our guests. It is a process that we try to improve year after year and we hope to be able to make a significant and measurable impact in the future. 
WF: Do you see that vision evolving in the coming months and years?
SM: Absolutely, we want to make it clear and with specific targets. With the two new openings coming up later this year we are in the process of learning what is the most balanced approach in our business in terms of impact to the planet as well as financial performance. We will use the experience from our two openings this year to clearly define our sustainability vision.   
WF: More broadly now, with a more industry-wide lens, where do you see sustainability at this point in time?
SM: Well, a broad question tends to bring a broad answer, however, if I can try to keep this more grounded I will say it is a necessity for any organization in any industry to fully understand its impact on the environment throughout the entire production and service delivery cycle. Already several leaders in the industry have shown us the way that it is possible at its best quality. There is the example of three Michelin star restaurant in New York, 11 Madison Park that has essentially gone entirely plant-based. Another example is Alain Ducasse, an amazing French Chef, who has already opened a casual restaurant in Paris that is all about plants. Almanac Barcelona Hotel has a partnership with Rodrigo de la Calle, who is a specialist in green haute cuisine with the creation of our VIRENS restaurant. The restaurant follows our plant-forward philosophy, offering a green gastronomy experience. Barcelona is traditionally known for its classic Spanish cuisine, but we realized that actually, the market is really hungry for an innovative restaurant concept.  
WF: Do you see an increase in demand from your clientele for more environmentally friendly initiatives and more transparency?
SM: Yes, there is hardly any event or dining occasion that would come without a "special" request catering to either guests´ health or environmentally friendly needs nowadays. Meaning it is a norm, not an exception for our guests to choose businesses that cater to these requests.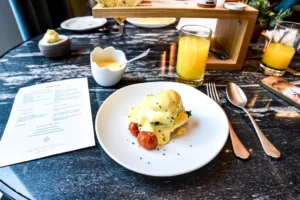 WF: How do you see the importance of sustainability and environmental impact reduction evolving in the industry? Do you see it taking more or less importance?
SM: We are only seeing the tip of the iceberg. Businesses will need to make this a priority in order to stay relevant. Each business needs to analyze its own work cycles/ processes to identify which steps negatively impact the environment and their profitability in order to change those steps. It is essentially what I do in my day-to-day work life. I think about how we can create more innovative and more sustainable concepts while continuing to deliver on financial expectations.  It is the task of every hospitality operator to find their niche on the market, to be able to add value to the guests – whether it's through the flavors of the dishes, the decor, or the experience – in order to separate themselves from the competition and to still be able to maintain margins. I see the near future predominantly on plant-forward culinary programming with several industry leaders in the gastronomy world already taking the first steps.
WF:  We probably should have started with this question because we know this is what most professionals of the industry ask themselves, do you believe that sustainability is a revenue driver?
SM: Yes, it can be. However, a proper analysis of the entire process must be done from planning, sourcing, producing, and delivering an experience. It is important to collect data to make the decisions much more accurate and much more impactful as an effort to really do a positive change. Software that gives you the data is an important justification process because traditionally companies have not really done this internal work. We need to adjust our business and find how to benefit the planet, the market, and the product. The opportunities are truly endless.