103With two stars in the sacrosanct Michelin guide, a green star, and four toques in the Gault et Millau, Christophe Aribert has adopted a solid ecological stance in his restaurant in Uriage-Les-Bains, located at the crossroads of the Vercors, Belledonne, and Chartreuse massifs, near Grenoble.
He grew up in the Vercors, where his parents owned a hotel restaurant, La Buffe, in Autrans. Chef Christophe Aribert is deeply attached to his region. "I have a strong attachment to the Vercors, my grandfather was a vegetable farmer, and my father was a cook and hotelier. As a local child, I grew up among the fir trees, the forest, and the mountains of the Isère," he states.
As a teenager, he was passionate about downhill skiing, which he practiced at a high level. But a knee injury changed his destiny. He decided to change his career path and pursued a career in gastronomy. "When I was a teenager, I used to help my father prepare the Queen of Sheba cake, a kind of chocolate sponge cake. At the time, cooking was all about proportions and techniques, which I continued to learn at the Grenoble culinary school," he explains to L'Express. For him, cooking is a playground and a way to surpass himself. He trained in Paris, at the Tour d'Argent, and at the Crillon Hotel.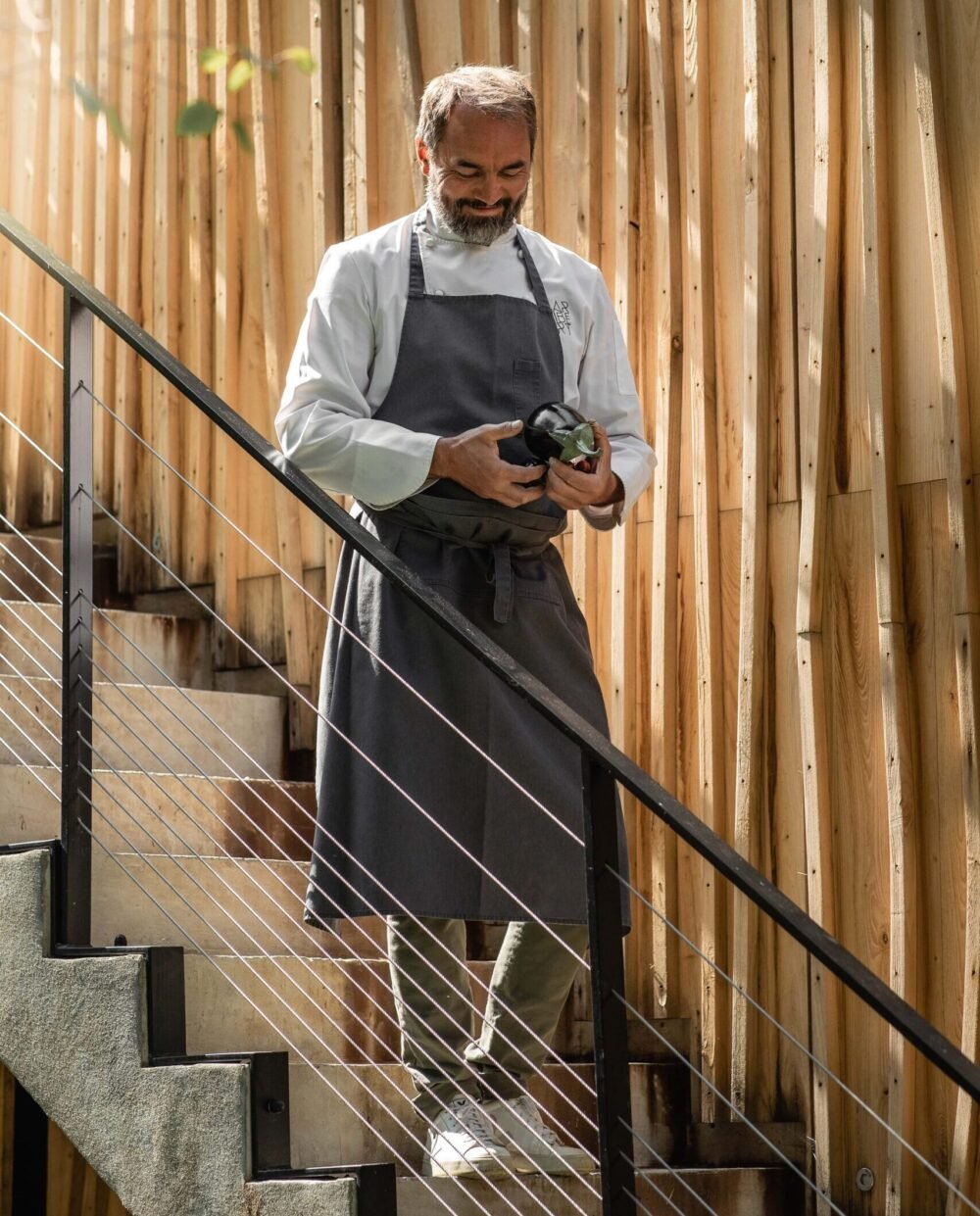 310
Photo : STUDIO PAPIE AIME MAMIE
He restored a building dating from 1871
In 1997, Christophe Aribert was hired as sous-chef at the grand hotel in Uriage-Les-Bains. He took over the reins in 2004 when the chef Philippe Bouissou decided to give up his chef's hat. He succeeded, with flying colors, in maintaining the establishment's two Michelin stars. The menu? A unique and creative cuisine, offering all the treasures of the local soil. The young chef offers a cuisine in his image, with a close relationship with nature.
Then, in 2014, he fell in love with a magnificent building in the heart of the park of Uriage-Les-Bains dating from 1871. A building in a state of decay and on the verge of collapsing. Christophe had previously refused to give in to the allure of the international market and turned down two offers in Paris, with salaries that would be a dream come true for any chef.
A Fundraiser to Expand the Green Project
The bank believes in his project and has faith in him, lending him several million euros. Chef Aribert's financial project is based on a fundraiser involving a group of investors and a traditional loan. Some of his client friends also participated financially, notably the cyclist Romain Bardet and Bruno Cercley, CEO of Rossignol.
Christophe Aribert then managed to transform the old building into a cozy contemporary eco-friendly nest. The chef was inspired by Joëlle Personnaz, a local architect who specialized in geobiology. The building meets bioclimatic standards and uses telluric energies. Its future is set for the next two centuries! It is insulated with wood wool, has a spring water collection system, is equipped with a pellet boiler, and uses green electricity from Grenoble. With its vegetated roof and soil decontamination, the eco-friendly haven has almost zero impact!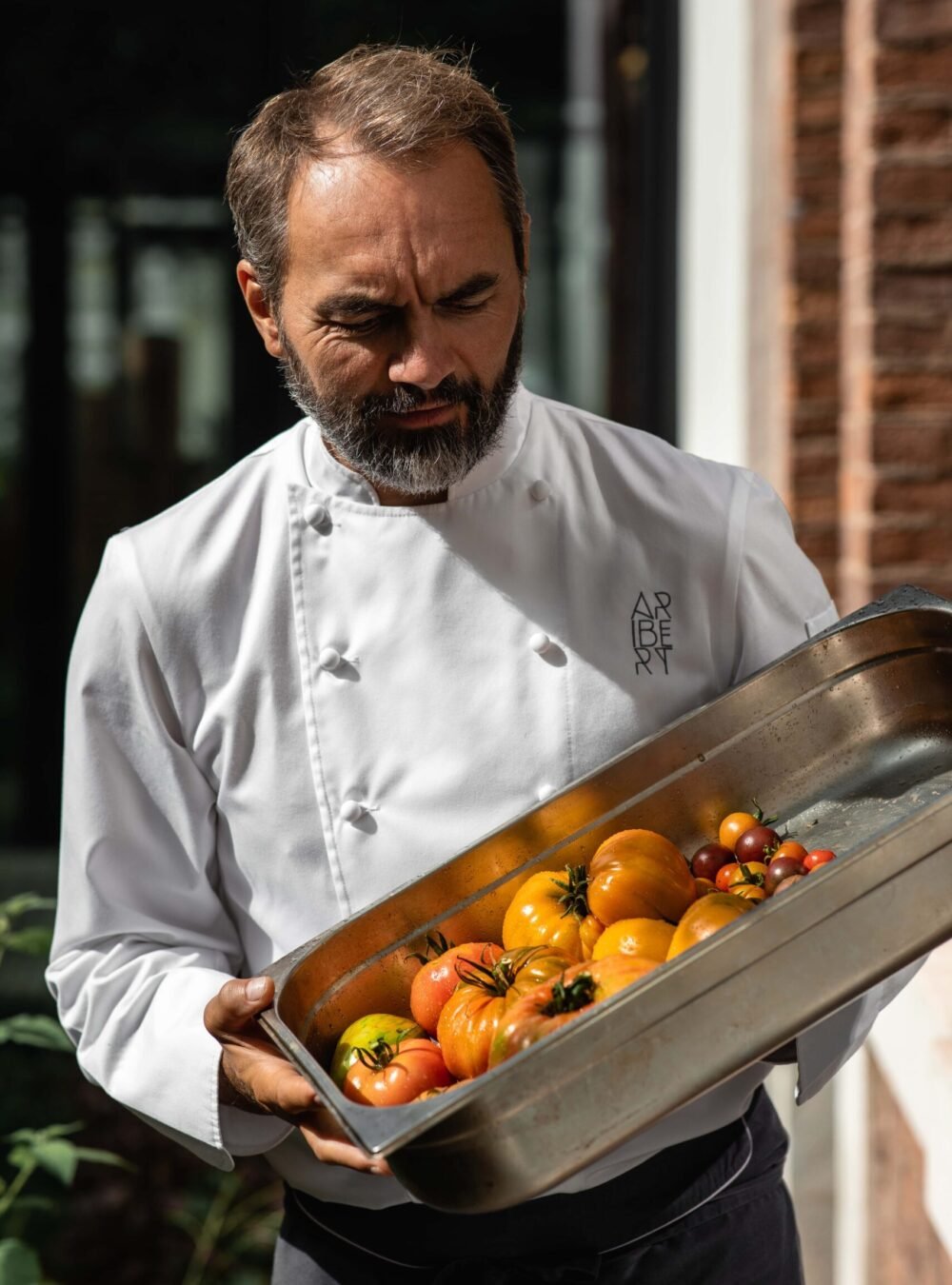 Photo : STUDIO PAPIE AIME MAMIE
An Eco-Friendly Commitment, Centered on Agriculture, Well-Being… and Yoga Classes
The employees' clothes are made of organic linen manufactured in France. When you visit the restaurant's website, maisonaribert.com, you are pleasantly surprised to discover that the place also offers unusual activities, such as yoga retreats, meditation sessions, and Ayurvedic massages.
At the table, one can enjoy smoked Vercors trout with mustard ice cream, gazpacho, and tomato arancini, poultry from the Trièves, accompanied by baby carrots, and a thyme juice. Aromatic plants and fruits are picked in a permaculture garden adjoining the building, and vegetables are grown on a three-hectare plot of land in Saint-Martin d'Uriage. In the long term, the objective is to be autonomous, to reach new heights in vegetable cooking. And that's not all: the chef offers homemade bread with organic flour and natural leavening. The fish comes from Alpine lakes. Christophe Aribert shows total respect for seasonal products. It is about understanding the land and respecting it. The chef is keen to promote agricultural transition by encouraging market gardeners to cultivate organic or sustainable products.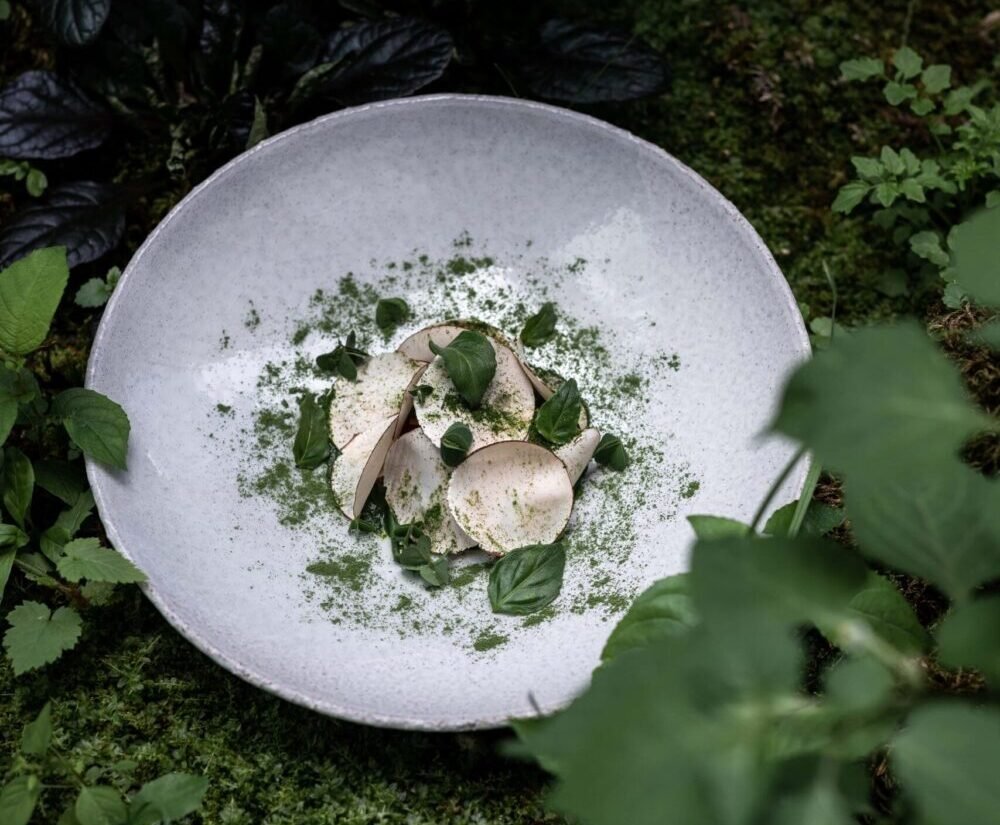 Photo : STUDIO PAPIE AIME MAMIE
Developing Several Ancillary Activities Around Cooking
The Aribert House is founded on a financial structure and an economic development that aims to attract sports enthusiasts and health-conscious organic food lovers. The customer journey consists in reconnecting people to nature. The economic model of this magnificent place is also based on creating several activities, with the development of other businesses, such as a café, guest rooms, seminar rooms, and yoga retreats.
Christophe Aribert thus nurtures a laudable hope of potentially discovering that the same vision convinces the new generations of a sustainable, green, and responsible world around the kitchen and well-being.