Transforming hospitality and the food industry into resilient sectors,
protective of the planet and its inhabitants.
We help hotels and food businesses build a conscious and resilient future.
We build conscious & resilient businesses
​Conscious & Resilient Model​ allows for an organization to continuously maintain or grow c​ommercial success​
no matter the situation, while safeguarding people, asset and planet​, thus increasing ​brand equity.​
Not your typical consultants, we are agents of change !
We believe in creating and transforming businesses through the application
of conscious capitalism principles in order to achieve long-term resilient success​.
Hospitality Project
1st chain of Lab-Hotels
aiming for self-sufficency
Restaurant, Communal Space, Hotel, Residence, Retail
Urban Farming, Alternative Protein, Renewable Energy
Measured & Managed by a Business Intelligence Software
Highly Profitable & Protective of the Planet
I bring 18 years of experience in the luxury hotel industry from places such as Park Hyatt Los Angeles, Grand Hyatt New York, Grand Hyatt Dubai and most recently Grand Hyatt Singapore, just to name a few.  My latest posting was as Director of Food & Beverage at Grand Hyatt Singapore, where I spent 5 years and made a name for myself for pioneering the adoption and implementation of sustainable practices and alternative proteins in hospitality. In 2019, I started consulting plant-based meat companies, such as the Barcelona based startup Heura Foods. Back in Europe, I help businesses transform into sustainable and progressive brands.
As a specialist in Rooms Division and technology, I bring 14 years of experience in the international hospitality industry. I was part of the opening team of top hospitality brands like Ritz-Carlton, Grand Hyatt and Waldorf Astoria across China, followed by my last hotel position as Director of Rooms of a Leading Hotel of the World in the French Riviera. Passionate about technology and process optimisation, I transferred my expertise in 2019 into the hospitality tech industry helping a French startup to build an enhanced PMS software and launching its commercialisation. With WiseFins I now use my experience in hospitality and tech along with my passion for renewable energies to help businesses on their sustainability journey.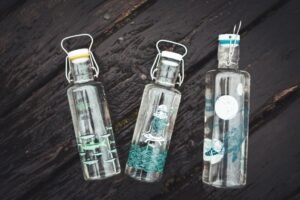 4 Expert's Recommendations : On How To Run A Purpose-Driven Business. Are you also tired of companies thinking that purpose…
Az'UP is a new incubator based in the South of France focused on helping startups with strong social and environmental…
The Virtual Conscious Festival is a three-day immersive event that will help guide you on a journey towards embracing a…